RETURN TO HOME PAGE
BITEradio.me
Recommended Reading



Authors, Books and Radio Shows





Listed below are names of authors, their books and the radio show episode discussing their book.
Simply click on the book title to listen to the show. If the author has a web page you will find it listed in the show page description.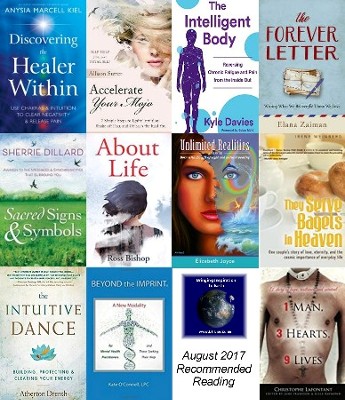 Ross Bishop - About Life


Kyle Davies - The Intelligent Body


Sherrie Dillard - Sacred Signs &amp Symbols


Atherton Drenth - The Intuitive Dance: Building, Protecting &amp Clearing Your Energy


Elizabeth Joyce - Unlimited Realities (memoir)


Anysia Marcell Kiel - Discovering the Healer Within


Christophe Lafontant - 1 Man, 3 Hearts, 9 Lives


Kate O'Connell - Beyond the Imprint: A New Modality for Mental Health Practitioners


Allison Sutter - Accelerate Your Mojo; Ignite Your Intuition


Irene Weinberg - They Serve Bagels in Heaven


Elana Zaiman - The Forever Letter; Writing What We Believe For Those We Love


Children's Corner

Simply click on arrow below, locate show, then click on 'Go'



Environmental Awareness

Simply click on arrow below, locate show, then click on 'Go'


Self-Help

Simply click on arrow below, locate show, then click on 'Go'


Spirituality

Simply click on arrow below, locate show, then click on 'Go'